MyFSD Academy
Hello Fullerton School District Parents and Community!

The Fullerton School District is proud to offer a homeschool program for TK-8 families both within our district, and for families who wish to transfer into the district for this unique program. MyFSD Academy is the Fullerton School District's Homeschool program designed to support families where the parent desires to be the primary instructor for their child.

MyFSD Academy is intended for families who are interested in the homeschooling concept, where the parents are involved in most aspects of the student's learning and schooling process, and who also want the support of a credentialed teacher for goal setting, one on one meetings, and hands-on symposiums or project-based learning times. Additionally, students may participate in voluntary field trips and social events. This program is designed to help students discover their interests, find their strengths, and engage in a personalized approach to learning.

We are still accepting enrollment for the current school year. During the enrollment process, parents will be able to confer with FSD staff and customize the program. For instance, the frequency of the student/teacher check-in can be customized to fit each family's needs.

In this model, parents can also communicate with FSD staff if there are certain subjects that they feel they might need more support with. Another choice parents will be offered is through the seminars or symposiums and personalized learning experiences. Symposium topics could include writing, STEM, videography, physical education, or the Arts. These symposiums will be taught by our MyFSD Academy teachers or other FSD staff with expertise in these areas. All parents will be able to submit topics for additional potential symposium topics through our surveys sent out to families so that we can better meet your needs. Symposiums could be a one-time seminar lasting from 45 minutes to an hour. Others may be a series of sessions over several weeks. You let us know your interest, and we will look for experts to present in those areas.

Lastly, your student will be part of a school and will be invited to field trips and school and districtwide events based on their interests as well. These are a sample of some of the learning options available to MyFSD Academy students.

Students are provided with a flexible learning model that includes an online learning opportunity with a credentialed teacher. This option will be available along with the distance learning reopening

A variety of curricular options and tools are available.

For questions regarding enrollment, please call the MyConnect Academy office at 714-447-2862.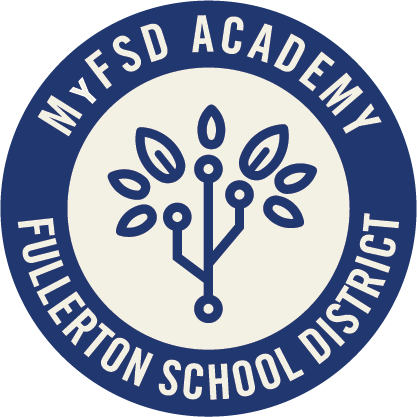 There are four major components to MyFSD Academy. First is the technology component. Technology will play a large part in delivering the curriculum through a Learning Management System that will be used to post assignments, activities, and communication. It will be our one-stop shop to make it easy for us to stay connected.

Next is the pedagogy. We are using the competency-based education model. Our focus is on helping students achieve mastery of the standards by giving them a choice. Students will be provided a menu of options on how they want to learn and how to demonstrate that they learned it. Multiple measures will be used to assess student mastery including portfolios, tests, quizzes, and performance tasks.

Now let's take a look at the content. Just like any other classroom in Fullerton School District, MyFSD Academy teachers will be teaching to the California Content Standards for English Language Arts, math, science, history, PE, and visual and performing arts. We will use the district-adopted curriculum with supplemental resources and materials.

In this last section, the fourth, and most important, component is a focus on the parent-school connection. We will partner with our families to provide choice and voice on when to learn and how to learn. We will also collaborate with students and parents on goal setting. When everyone knows what the objectives are, the more likely those goals will be achieved. And, there are optional symposiums/seminars designed to deepen areas of interest.

Through MyFSD Academy, parents have choices on when your child learns and how they learn with the support of a credentialed teacher.